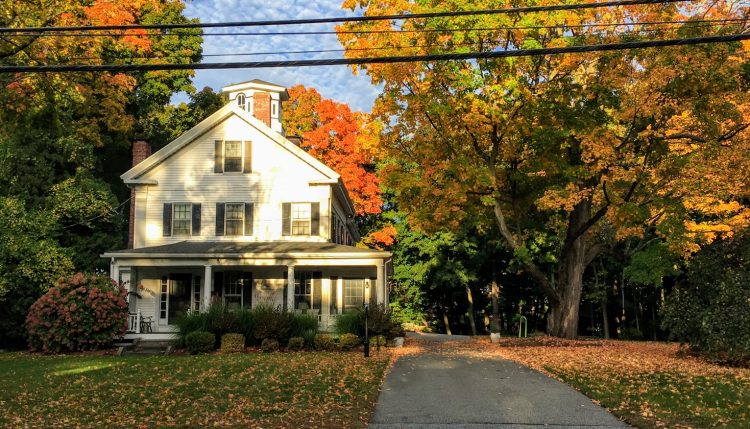 The best places to live in and around Boston
Last week, the Boston Globe Magazine published its annual "Top Spots to Live in Greater Boston" feature, which I've been fortunate enough to write for the past two years.
For want of a better metric, the list is based on the spots with the biggest increases in median home prices over the previous five years — the idea being that prices go up when more people want to live in a place. It's an imperfect measure, to be sure (and not my own), and, naturally, people get all worked up about that. But home price data is measurable, and the market does move with demand, which is mostly (though not entirely) driven by desirability, so it's not a bad way to pick some winners.
Of course, where we choose to live is a deeply personal decision that taps into both our practical (how far is it to work? to family? can you afford it? and will your kids be safe and get a good education?) and emotional (does it remind you of the neighborhood you loved growing up in? does the architecture or natural beauty appeal to you? does the diversity or vibrant street energy inspire you?) instincts. So the best place for one person is rarely going to be the same best place for someone else.
But there are some common, appealing factors a lot of people agree on. We don't value them all in exactly the same way — some people prioritize a large yard over convenience to the city, for example, while others would trade a subway station and a deck for a one-acre plot — but most of us would probably like both of those things if possible, along with trees and parks and good schools and the ability to walk to restaurants and shops. And there are some communities just seem that tick a lot of boxes for a lot of people.
I look at houses in towns all over Eastern Massachusetts each weekend for the Globe's "On the Block" column, and my wife and I researched the hell out of every community within 15 miles of Boston when we were looking to buy our own home a decade ago. So for what it's worth, here are my very biased, totally unscientific picks for the best places to live in and around Boston, depending on your budget and some other factors.
We'll use median home prices, which include both single family houses and condos, from the past 12 months, courtesy of Redfin. In my view, that's a good figure to look at, because it represents what real people are paying to buy in these places. But it does mean that in Boston, Cambridge, and other areas where condos make up the bulk of home purchases, the median more closely reflects the price of an average condo, and a single family might be a lot more expensive.
The best places if you're wicked rich…
Newton
Median home price: $944,000
I love a streetcar suburb (near-urban areas that experienced a lot of growth around trolley lines in the late 19th and early 20th centuries, like Kevin McAllister's neighborhood in 'Home Alone'), and Newton is one of most perfect examples of the style. It's just a green-line ride from downtown, and the various villages are full of dense but leafy side streets lined with charming single family homes, shops, and restaurants.
Cambridge
Median home price: $878,000
One of the most historic yet forward-thinking cities in the U.S., Cambridge is both beautiful and booming. It boasts a mix of Revolutionary War-era Colonials, turn-of-the-20th-century three-deckers, ultra-modern condos, and everything in between, all at a very comfortable and walkable human scale. You're on the Red Line into downtown (and can get there just by walking over the Charles in some spots), but with so many restaurants, bars, music venues, parks, playgrounds, and other things to do — not to mention the biotech and academic capitals of North America — there's little reason to leave.
Brookline
Median home price: $890,000
If you can afford to buy a home here (and a parking spot, since overnight street parking is banned), you'll have easy access to downtown (you could even walk to Back Bay from many areas) and city-caliber eateries and shopping, all in a more tree-lined, picturesque package.
South End
Median home price: $1,060,000
We lived in the Back Bay for three years, on a brick-lined street with gas lanterns, and it was lovely — but not as lovely as the South End, and here's why: In the Back Bay, you are surrounded by tourists. It gets to be exhausting after a while. I went out for bagels one Sunday morning on Marlborough Street, and emerged to a group of people taking pictures of our brownstone apartment (and me, in my sweatpants). Just blocks away, meanwhile, the more residential South End has America's largest collection of Victorian rowhouses, and better yet, it's still the reigning restaurant capital of the Boston area.
The best places if you're just kinda rich…
Hingham
Median home price: $777,000
Eleanor Roosevelt called Hingham's Main Street the most beautiful in America, and with good reason: With stately antique Colonials and towering trees, it's positively picturesque, like a Norman Rockwell painting. There's a farmer's market by the ocean, beautiful parks (including dog paradise Bare Cove and the Trustees-owned World's End), and the best commute in all of Boston, aboard the MBTA ferry.
Arlington
Median home price: $764,500
Formerly a working-class city, Arlington has been drawing priced-out Cantabrigians for so long that it's now a sought-after destination of its own. Like Cambridge, it has leafy side streets with a neighborhood feel, plus a commercial spine along Mass. Ave. with small businesses, restaurants, and an independent theater. The only thing it's missing is the subway, though it's an easy bike or bus ride from East Arlington.
Medford
Median home price: $635,500
Medford is to Somerville what Arlington is to Cambridge — an overflow option that's a desirable community in its own right. It shares Tufts with Somerville and keeps you very close to the city, but there are more residential neighborhoods (Brooks Estate is positively idyllic) and gorgeous outdoor spaces including the Mystic Lakes (with swimming and boating programs) and the Fells Reservation.
Jamaica Plain
Median home price: $670,500
We had our hearts set on JP when we were house hunting a decade ago. Unfortunately, so did everyone else, and everything we looked at spiraled out of our price range. There's a reason prices never really dipped here during or after the recession: It's got Orange Line and bike path access to downtown; the beautiful Jamaica Pond, Olmsted Park, and Arnold Arboretum, all jewels of Boston's Emerald Necklace; a lively, walkable stretch of small shops, bars, and restaurants along Centre Street; and free-spirited ethos that celebrates diversity and community.
Milton
Median home price: $683,500
Over the Neponset River from Boston, Milton reminds me of Newton in a lot of ways… only it's a few hundred thousand dollars cheaper. The schools are good, and there are sprawling, historic, multimillion-dollar estates — but also dense pockets of not-outrageously-priced homes on tree-lined streets with sidewalks. There's bucolic beauty in the Blue Hills, plus the more bustling commercial districts of East Milton Square and Lower Mills.
Marblehead
Median home price: $618,000
It's a bit off the beaten path — a drive to the commuter rail — but the winding streets and 18th-century maritime homes of Marblehead's Old Town are so damned charming it's well worth it. (Plus, you can probably just sail to work from one of the several yacht clubs.) There are more spread-out neighborhoods, too, from 1920s-style city blocks to cul-de-sac developments.
Melrose
Median home price: $588,000
Melrose is, in my opinion, the nicest of the three middle-class "M" towns just north of Boston (along with Medford and also-booming Malden). It's got beautiful, family-friendly neighborhoods and parks, a nice housing stock with lots of Victorians, plus some little shopping districts and commuter rail service. (I'm including it here because that median home price seems low to me; if you find a house in good shape for under $600K in Melrose, I'd say take it.)
The best places ordinary people could possibly, theoretically afford to live…
Reading
Median home price: $556,500
Reading has a lot of ingredients for a great town: It's got ample commuter rail service to Boston, a lively town center with shops and restaurants, good schools, a beautiful historic district filled with charming homes (like the one pictured atop this post), and it's at the intersection of two major highways. It's gotten too pricey, in my opinion, but I think it offers everything Needham does at a good discount.
Newburyport
Median home price: $519,000
If you like the charming, historic, waterfront pedestrian paradise of downtown Portsmouth, N.H. (and I sure do), Newburyport feels very similar — but bigger, and on the commuter rail to Boston (albeit, a 60-minute ride to North Station).
Quincy
Median home price: $476,500
After a lengthy home search 10 years ago, we ultimately decided that Quincy was one of the most undervalued areas around Boston, and narrowed our search to about a square mile between Wollaston Beach and the Wollaston T station. Prices have gone up here, by a lot (particularly in the most desirable neighborhoods like Wollaston, North Quincy, Merrymount, West Quincy, and Adams Shore), but it still represents a great value if you'd like to be near the city: You've got 27 miles of Atlantic coastline (take that, western suburbs), four Red Line stops (suck it, Watertown), surprisingly good schools (sorry, Medford), plus a ton of restaurants and a "light-urban" patchwork of walkable, diverse neighborhoods. Like Medford, Quincy has an incredible amount of cheap or even free activities and day camps for kids. And our daughter will always be able to walk to school, or to a friend's house — it's an incredible place to raise a family.
Best Value, West: Norwood
Median home price: $453,000
If you ignore the ugliness that is Route 1 and the "Automile" on the east of town (which keeps the residential property tax rate quite low), Norwood is a really cute suburb wedged between more expensive Westwood and Walpole. It's got a historic and concentrated downtown, good schools, a lot of adorable 1920s houses, and even some great breweries. At this point, I think Norwood presents one of the best values in the Boston area.
Stoneham
Median home price: $511,000
It wouldn't be my first choice, but Stoneham's got some surprisingly cute areas for an office-park suburb off I-93, and the price point is pretty reasonable, all things considered. Realtor Marie Presti told me it has great potential, and the town just won matching state funding to build a new high school. "That probably won't happen for five or six years," she said. "But for a family with young kids, it's a great time to move in now, because they'll have a new high school built once the kids are that age. And when you get a new high school built, you usually see a bump in prices."
Best places: The real bargains
Best Value, North: Salem
Median home price: $380,000
With so much incredible history, an active (and largely pedestrian) downtown full of rustic whaling taverns and offbeat cafes and shops, and waterfront beauty, Salem was our runner-up when house hunting. It's even at the convergence of two commuter rail lines, so you've got trains coming almost as frequently as a subway line during rush hour. It just felt a little too far away for us after having lived in the heart of Boston for so many years, and for some reason its schools continue to rank pretty poorly. Despite some big price gains since then, I think Salem is still one of the best values in the Boston area.
Best Value, South: Easton
Median home price: $394,500
I'm often surprised by the price when I tour a home in Easton: You can get a very nice four-bedroom house here — with a yard, updated kitchen, the whole shebang – in the $400K-$500K range. It's got a rural feel, yet it's not that far from the city (and pretty near to Providence, R.I., too), there's a college in town, and a very cute town center (plus a delightful children's museum). There are loads of beautiful, historic homes, too — it's not your generic bedroom community full of mid-century ranches.
Plymouth
Median home price: $370,000
It's far from Boston, yes, but Plymouth is still on the commuter rail and enticingly priced. It's huge and varied, with just about any type of housing you might want. And you can enjoy beautiful, Cape-like beaches plus a local history that rivals Salem's.
Lowell
Median home price: $285,000
Lowell has been on a long, sometimes-difficult, upward trajectory since the 1990s. It's got cobblestoned streets full of restaurants and bars, commuter rail service into Boston, a bonafide minor league baseball franchise, a lovely outdoor concert theater and summer music series, and one of the lynchpins in the University of Massachusetts system. You can find gorgeous new lofts in renovated brick mill buildings, and 19th century mansions where old mill owners lived. Simply put, Lowell's not perfect yet, but there's a lot of good going on here.
So there you have it – my unofficial, completely subjective picks for the best places to live in and around Boston. What places would you add? What made you settle on where you live now? Feel free to tear me a new one in the comments.