Is Angie's List worth the money?
When we first bought our house about seven years ago, our to-do list, based in part on our lengthy, detailed home inspection report, was literally pages long. More like a to-do binder.
We knew next to no one in Quincy, and after renting for all of our adult lives, we certainly didn't have a ready Rolodex of plumbers, electricians, and other tradespeople we trusted.
So eventually we signed up for Angie's List, the Yelp of home improvement — if Yelp cost money and people reviewed plasterers instead of tapas bars.
I figured we'd use it for a year to filter out the bad eggs and hopefully find a few go-to guys for basic home repair stuff: a plumber, an electrician, and maybe a general carpenter or contractor we could rely on.
We did find all those things, but I never got around to canceling my subscription, which has only gotten more expensive. The thing is, it's automatically renewed on some credit card somewhere, and I never realize it until long after it's happened. By then I think, "Eh, it's pretty useful I guess."
Not exactly a ringing endorsement, I know! So I wanted to break it down a bit and really examine whether Angie's List is worth the money — for me, now that I have a few tradespeople I know and trust, and for new homeowners, too.
How much is it?
The Basic tier is only $9.99. So check this out: I just realized I've been paying $30+ a year like a chump because when we signed up years ago, they had only one membership level, and I've been automatically renewed at that price for the past several years!
They also have a Plus tier for $29/year and a Premium tier for $59/year: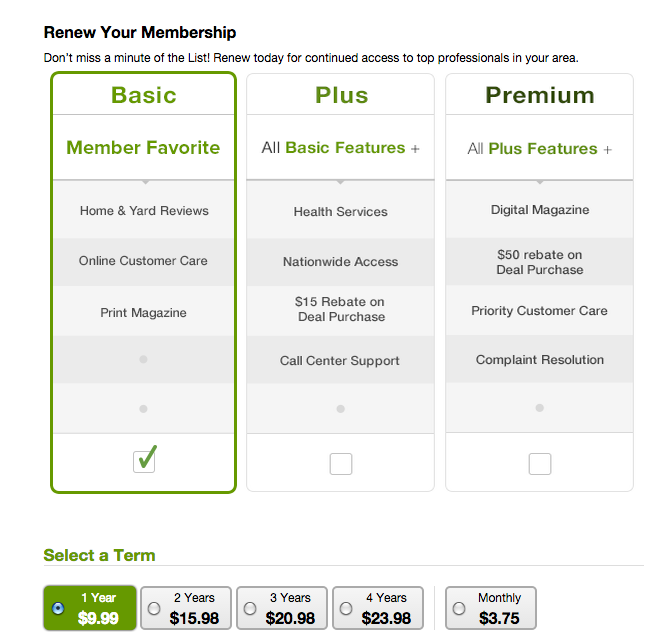 So that's pretty sweet: By researching this article I just saved myself about 20 bucks! I've downgraded my membership to the Basic tier. Note that you can add a year or two to your subscription and drive the price down to as low as $6 a year.
The best part about Angie's List
The most valuable part of Angie's List, bar none, are the reviews from actual homeowners (and the accountability it fosters among reviewed tradespeople).
You don't need to pay for call center support or a digital version of their monthly magazine. You don't need to pay extra for the doctor reviews — they're far less robust (virtually useless, in fact, when I tried them about a year or two ago). And unless you own several homes in different states, you probably don't need to pay for nationwide access.
The real-deal reviews of tradespeople — that's where the value is. And they're available in the cheapest membership tier.
And it's not just about finding a highly-rated contractor to remodel your bathroom. One of my favorite uses for Angie's List reviews is to research cost estimates.
You can parse through dozens of reviews in your area to find almost the exact project you're planning, and get a very good ballpark idea of how much it's going to cost you — or at least, how much it should cost you.
For instance, before we got our downstairs bathroom remodeled, I read reviews of a handful of contractors, looking for ones that matched the scope of our project: a single bathroom in an old house, gutted down to the studs, but nothing too fancy otherwise. I was able to get a very accurate price range for the work and knew right away that our first quote — $25,000! — was about $13K-$15K higher than it should have been.
In an industry where pricing is so variable and often shrouded in mystery, this kind of transparency is an invaluable resource if you know to look for it.
What about the 'Big Deals'?
If you haven't noticed by now, daily deals (a la Groupon) are by and large not so great a deal a lot of the time. Most people just end up buying stuff they don't need.
Anyone can shop the Big Deals on Angie's List, but, quite frankly, they're usually not a big deal.
For example, here's a current deal in Boston: $125 to install a customer-provided ceiling fan (normally $175).
Guess what: It only takes a professional electrician about an hour to install a ceiling fan, maybe a few minutes more. But like plumbers, they typically charge a two-hour minimum for a service call. In the Boston area, you can expect a pro electrician to charge $75-$100 an hour, or $150-$200 for a two-hour service call.
That means that for $200 at most, you could get a ceiling fan installed — and the guy should still have time to replace a few outlets for you, or even install a second fan. That $175 figure is just a bogus markup (or the company charges too much).
Why Angie's List is worth it
Still, I've found that an Angie's List subscription is definitely worth the money — if you have an older house that needs repairs or improvements once in a while. You'll recoup that $10 easily, and then some. Here's why:
Many providers offer a small discount, say 5%, to Angie's List members, hoping to get more good reviews. On a $10,000 bathroom remodel, that's $50 right there.
More importantly, you're less likely to get ripped off. I don't think I've had a bad experience with an Angie's List provider yet… knock on wood. (The bad reviews I've had to write were of contractors I didn't find through the list.)
Some have been wildly overpriced — a lot of Angie's List superstars cater to people who are willing to pay a premium for quality work — but many more are simply reliable tradespeople doing good work for a fair price, day in and day out. Making them aware that you're an active Angie's List member — with the ability to impact their reputation for better or worse — may also help keep them on their best behavior.
Reading real reviews is the best research. I love This Old House as much as anyone, and it's a very helpful resource for home improvement buffs. But it's rare that they're tackling the same exact project you are, in the same manner, with the same materials.
As I said, I read through dozens of Angie's List reviews to get a sense of what a given project might cost in my area. It also helps me figure out how long it ought to take, what the common pitfalls are, whether there are other solutions I haven't thought of, and questions I should ask during the quote process. Simply put, reading about someone's actual experience getting a bathroom or kitchen remodeled in a house just like your own is an invaluable resource when you're about to do the same thing.
So, even though I've long since found a plumber and electrician I trust (along with a plasterer, general contractor, and landscaper), I'm keeping my membership. It's still worth it to me.
Photo: Angie's List