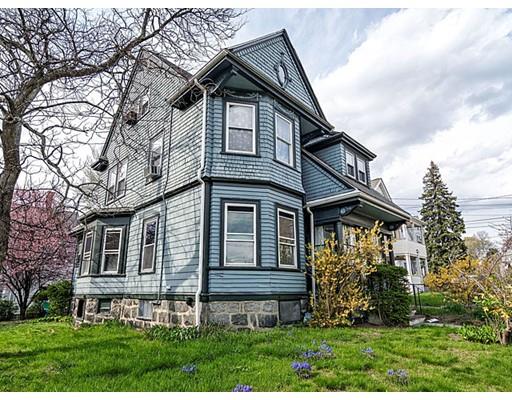 Wish Listing: Roslindale
Our last lust-worthy listing was a million-dollar colonial in East Milton — purely daydream territory. This week? We have an actual bargain on our hands.
This place needs a bit of work, and that's the only reason there's a Doctor's Row-area two-family — just  a few blocks from the heart of Roslindale Square — on the market for less than $600K.
What kind of work? The listing says it's got an old electrical system — fuses, even, not circuits — but even if that means knob-and-tube wiring, that's a $5,000-$10,000 upgrade, very doable.
One unit has an ancient gas boiler, but you can get a nice rebate on a new, efficient boiler from MassSAVE. ("Gas" is the important part there, if you ask me.)
The most nebulous and troubling issue is that the back staircase needs to be rebuilt. That could mean a couple of days for a carpenter, or it could be a major structural issue — you'd want your inspector to take a good look at it, and maybe even hire a contractor to come to your inspection.
Forget, for a moment, the beautiful Queen Anne style and the cute interior decor. This location is amazing. Roslindale Square has some awesome restaurants and bars, adorable bakeries and shops, and a commuter rail station, too. Plus, it's on the "nice" side of the tracks, near what's known as Doctor's Row, just south of the Arnold Arboretum.
Key Stats
Beds: 5 bedrooms
Baths: 2 baths
Size: 2,359 sq. ft.
Lot: 4,451 sq. ft.
Plus: Steps to Rozzie Square
Minus: Needs some substantial updates

Address: 8 Walter St., Roslindale, Mass.
WalkScore: 82 (very walkable)
Price: $579,000
Listing Agent: Ronald Danklefs, Jamaica Hill Realty
Verdict: For $579,000 plus about $25,000 in upgrades you could have a stately Queen Anne in one of Boston's best residential locations, renting out the two-bedroom unit to pay for close to half your mortgage. I think that's a huge score.