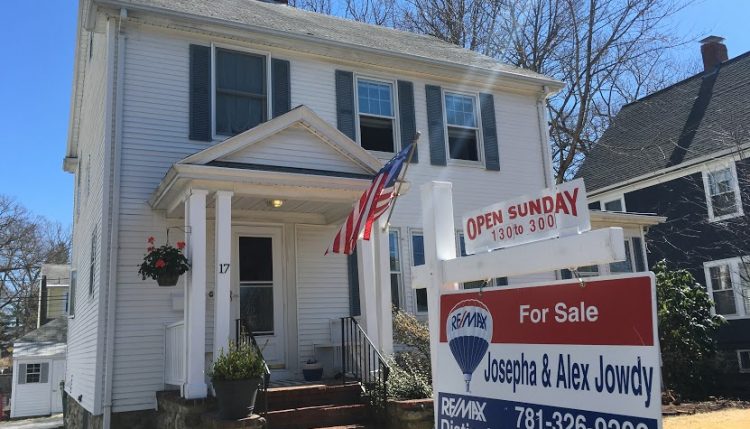 It's official: You'd be crazy to buy in Boston right now
Last fall, I wondered whether you'd have to be nuts to buy a house in the Boston area, given how overheated the market was. In the ensuing months, it's only gotten hotter – and the terrain more treacherous for first-time home buyers.
In Sunday's Globe, realtor Marjorie Youngren shares what it takes to make an attractive offer these days, and it paints a scary picture for buyers. It reads like a textbook of personal finance mistakes:
"This market is hot, unlike anything I have ever seen in my career. Buyers are often subjected to multiple bidding wars, resulting in frustration to the point of agreeing to almost anything to get any house. I say 'any house' because buyers are not only adjusting their expectations, but are in many cases settling for any home they can find that is remotely close to what they are looking for. …
"I know it goes against all buyers' gut instincts, but if you want a house, you just may have to drop [the home] inspection. … Buyers not only need to do whatever it takes to make an offer attractive, they need to do it fast. They may only get a day or two to make a decision. Homes are going on the market on a Saturday, with offers required to be submitted by Monday at noon. Buyers must rearrange their lives to make sure they get into these homes and have time to put together an offer. Weekends become workdays. If you are not on top of the market, you will miss out.
"Of course, cash has always been the preferred method for purchase, but in this market, it's becoming almost a necessity. … Buyers are responding by doing whatever they can to pay cash (maybe not on their first offer, but after losing a few homes they are). This includes borrowing the money from their parents, taking money out of their IRAs or 401(k)s, or not making the offer contingent on financing."
Waiving your home inspection contingency? Settling for a house you don't love? Rushing the biggest financial decision of your life so you don't miss out? Finding a way to pay with cash, even if it means borrowing from family members or raiding your 401(k)?
I have no doubt these tactics are probably necessary to win a bidding war in Boston right now — but they also make for terrible financial advice.
So it raises the question: If buying your first home in Boston demands that you make incredibly risky financial decisions… should you really be doing it?
I should clarify that I'm speaking about first-time home buyers here, those trying to break into the housing market from renting or living with family. If you bought a house in the area even as recently as three years ago, you're likely sitting on a pile of equity and would be selling into a hot market at a big gain – enough to compensate for the insanely high prices.
But for those just trying to gain a foothold in the housing market, it sounds like a nightmare – and not something I'd recommend. At least, not in the scorching hot markets inside Route 128 and west of the city.
Look at the laggards.
When even Dorchester and Chelsea are hard to get into, you know the market's on fire. However, there are still some towns that have lagged the raging price gains of Boston, Cambridge, Winchester, and the like. Here are some places around Boston where you can still get a decent house for your buck:
North of Boston: With a rich history, walkable downtown, and a steady parade of commuter trains, I think Salem is still an incredible bargain; so is downtown Gloucester, though it's much farther north. Likewise, former mill cities Haverhill and Lowell both have active downtown districts with commuter rail access, breweries, and restaurants; take a look at what $450,000 buys you in Lowell: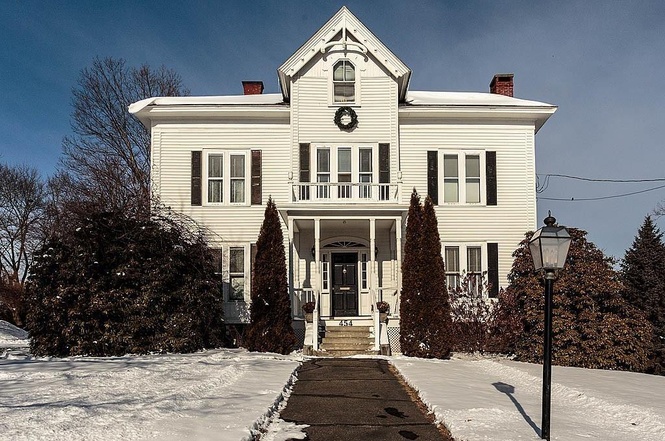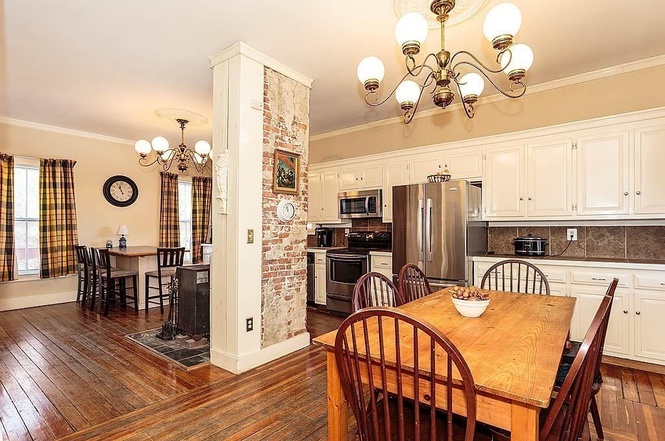 West of Boston: Forget it. Spreading outward from the Lexus-nexus of Weston, Lexington, Concord, and Newton, I think virtually everything west of the city is overpriced until you get to the Worcester area. People pay ridiculous amounts of money to buy in wholly unremarkable towns just because they have decent schools and they're next to a town that's next to, say, Needham.
South of Boston: There are great bargains to be found on both the South Shore and South Coast. Granted, prices in places like Scituate, Braintree, and even Quincy have climbed out of reach for a lot of people. But Hull remains very affordable (if precariously located in the age of climate change). I visited a glorious Victorian there – I mean, easily a $2 million house if it were in Newton — overlooking Boston Harbor and just steps away from the MBTA ferry (a 25-minute sea voyage isn't the worst way to commute to downtown), for about $700,000. But there are plenty of other homes in the $300K to $400K range. Marshfield feels a bit like Scituate 10 years ago, and is priced that way, too. Farther south, East and West Bridgewater and Easton have lots of nice old homes in the $300Ks.
And to be honest, I'd really look at Providence, R.I. It's a very cute little city, but a real-deal metro, too, with heavyweight colleges (including Brown University and Rhode Island School of Design), a great restaurant scene, and really nice, remarkably cheap 19th-century homes. It's even connected to Boston by a 60-minute commuter rail trip – you're no farther from downtown than someone living in Newburyport or Rockport.
Fancy yourself a landlord? Check out this two-family near Brown for $425,000, with wide pine floors and a hearth in the kitchen: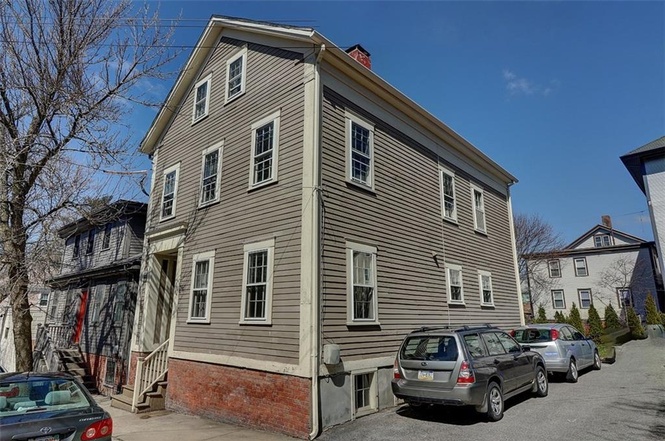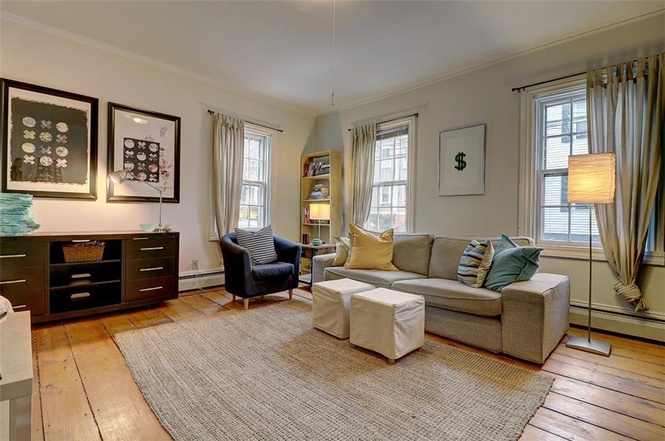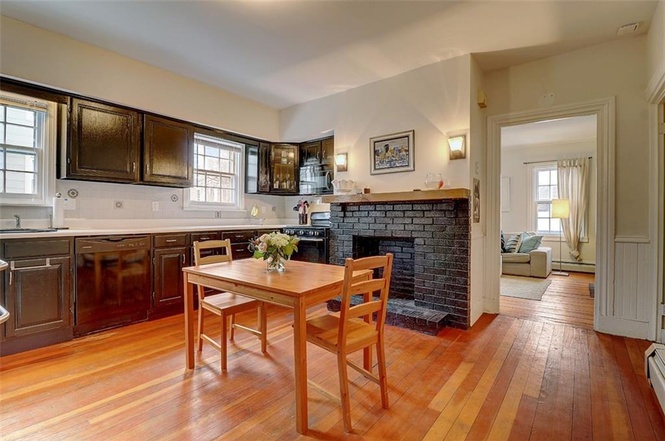 Buy your second home first.
And here's another option for first-time buyers looking to get a toehold in such a hot real estate market: Buy your second home first. Vacation homes on Cape Cod and in the Berkshires have seen price gains, too, of course, but not nearly so much as those close to Boston. (I touched on this in a piece for the Boston Globe Magazine last summer.)
If you want to buy a house but can't or don't want to afford these insane prices, just keep renting in Boston – with as many roommates as it takes to make it affordable – and buy a modest vacation home in a vacation destination like Cape Cod or Maine. If you rent it out on Airbnb or HomeAway for 12 weeks a year, you're going to come pretty close to breaking even on your mortgage (though don't forget to factor in expenses and maintenance) – and you can use it yourself in the off-season if you need a break from your roommates.
I won't sugar-coat it: Being a landlord is a ton of work, and it's full of headaches. But if you feel like you're missing the chance to build equity with a home of your own, the price points are a lot friendlier in Vacationland, and there's something to be said for letting other people pay your mortgage for a few years until you're ready to use the place yourself.
First-time buyers in a market this hot will have to make compromises. But risking your financial future shouldn't be one of them.
Related posts: