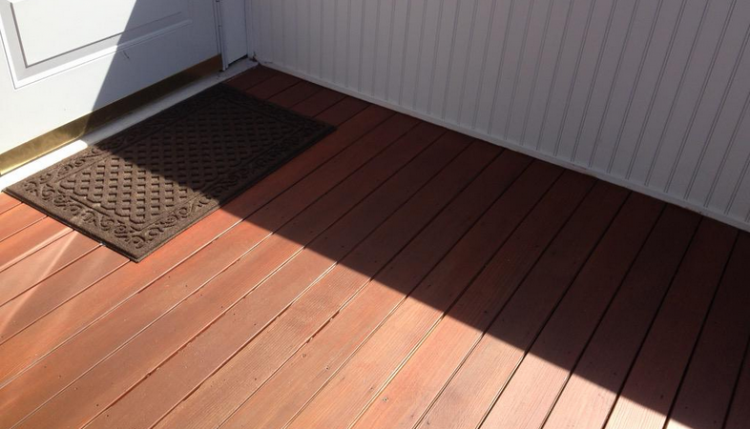 3 house projects for a dry spring weekend
Happy Memorial Day weekend! It sure is a gorgeous start to summer in Boston: warm, sunny — and really, really dry. The National Weather Service warned of an "elevated fire weather risk" extending through Sunday because of the extremely dry conditions we've been having.
Here are three spring projects you could tackle around the house to take advantage of the dry weather:
No. 1: Stain your deck or paint stuff
After the winter we had, your wood porch or deck is probably in rough shape. Before you get too far into summer to turn back, clear off the patio furniture, sweep and clean the boards, and apply a fresh coat of stain or paint.
I just re-stained our front porch after two years, using Thompson's Acorn Brown Transparent WaterSeal. Less than two hours later, it looked beautiful and I could put all the furniture back in place. (Although, I was dismayed at first to see that it poured out pink, and even brushed on that way. Maybe it's so you can see where you've coated already? Anyway, it dried nicely.)
While you're at it, paint any exterior trim you've been meaning to get to, or an old bookcase or dresser — whatever project you've been waiting for. It'll dry so quickly in this weather you can do a couple of coats nearly back to back.
No. 2: Spray for mosquitoes or weeds
I don't feel great about it, but we've been spraying our backyard for mosquitoes and ticks using this Cutter Backyard spray for the past couple of years, and it really works. (You can pay a service to do this all summer, but given the size of our backyard, one $10 bottle is like a 15-year supply.)
You need to spray this stuff (via a nozzle that attaches to your hose) on a dry day, because a) it needs to dry on the leaves to be effective, and b) more importantly, that will prevent it from running off into drains where it can reach the ocean — it's harmful to fish and other aquatic life. (I know, I know: Spare me the guilt trip. I already feel super crappy about using it.)
Likewise, if you use Round Up's poison ivy spray or other weedkiller, you need to spray it when rain isn't expected for a day or two, for much the same reasons.
No. 3: Water your lawn or garden
We've had a pretty good dry spell, so if you're like me and usually let Mother Nature take care of business outside, you might want to intervene just a bit and give your greenery a drink. At 82 and sunny, Sunday seems like a good day to let the kids run through the sprinkler for an hour or so. (This should be obvious, but don't do this project if you just performed No. 2.)
Bonus: Enjoy a cold one
It's the official start of summer, so once you're done with your to-do list, fire up the grill, kick back with a cold beer, and enjoy the beautiful weather. You've earned it!