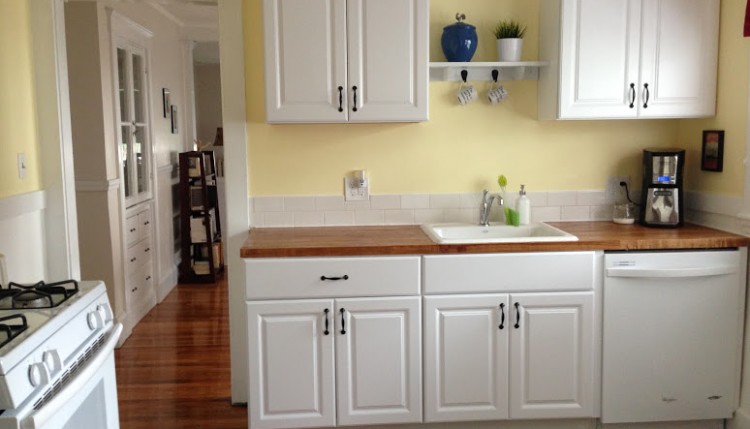 15
DIY kitchen cabinets: IKEA vs. Home Depot
A few years ago, we did a budget remodel of our gross, outdated kitchen. You can read about it here in detail, but here's a before-and-after shot to provide a visual summary: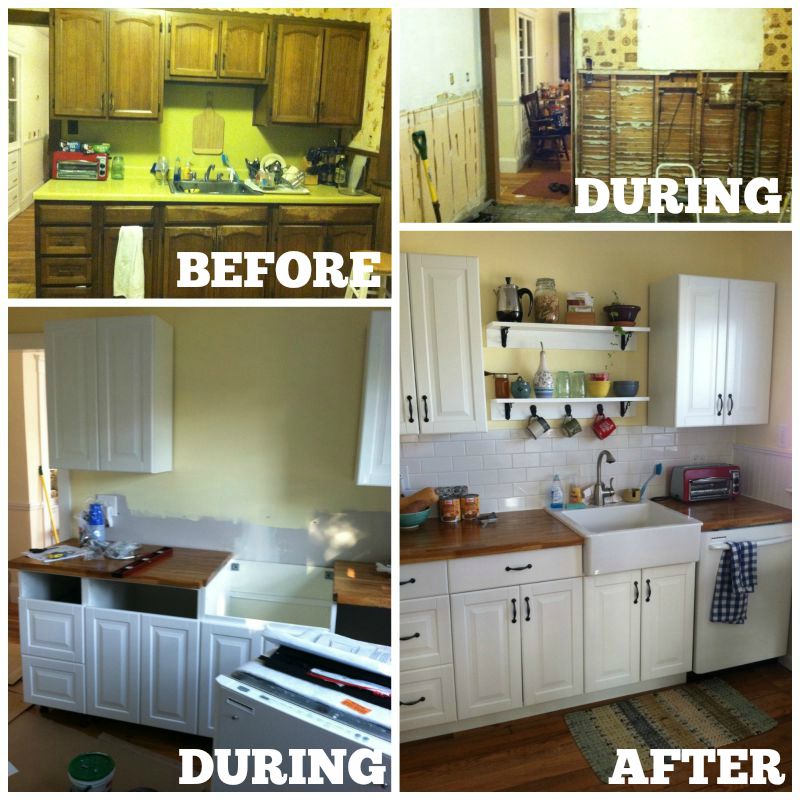 During our planning, I researched the hell out of stock, ready-to-assemble, and custom cabinets. We ultimately decided to go with IKEA cabinets because they're cheap, pretty easy to install, surprisingly durable, and look great.
Then last year, we ended up remodeling the kitchen in our downstairs apartment. It's almost the exact same layout, so we figured we'd take roughly the same approach that worked so well for us a couple years earlier (and has worked out great since).
However, at the time, IKEA was in the middle of its summer kitchen sale and all the while phasing out its longstanding Akurum cabinet system, so they didn't have a lot of the cabinets we wanted in stock; in fact, it was going to take three weeks to get some of them in. (And you can't really install a kitchen with just "some" of the cabinets!)
Plus, people had caught on to the ludicrous bargain that is IKEA's apron-front farmhouse sink — it was back-ordered for two months and the associate said he wasn't even allowed to sell it anymore. (IKEA's Domsjo single-basin farmhouse sink, which we have in our own kitchen, costs less than $200 and looks fantastic — a similar one elsewhere can cost $800 or more. The double-basin apron-front sink is a hair over $300 — compare that to over $1,000 for a similar Kohler.)
And as if that wasn't enough, they were out of butcher block counters, too. Another two-week wait. We needed to get all this done while I had a break between jobs, so we didn't have much flexibility in terms of timing.
So we had to scrap our plans for IKEA Kitchen 2.0, and start shopping the big-box home improvement stores.
We ended up getting stock cabinets and a regular Kohler cast iron sink from Home Depot, and one huge, eight-foot slab of maple butcher block from Lumber Liquidators. (That thing almost killed me in the driveway.)
That means I've bought and installed both IKEA cabinets and Home Depot's stock Hampton Bay cabinets (not to mention IKEA butcher block vs. Lumber Liquidators), so I can give you a pretty good pros-and-cons review of each from a DIY perspective — at least from my personal experience with them.
IKEA cabinets vs. Home Depot cabinets
Which cabinets were easier to install, better quality, and just look nicer? Well, that's easy: The IKEA cabinets beat Home Depot's stock cabinets hands down in just about every category — except availability at the time.
Here's how they compared in several key categories:
Price: Even
In terms of overall cost, IKEA's cabinets and Home Depot's stock Hampton Bay line were roughly the same. We got a higher-end trim of the IKEA cabinets, so they could potentially be cheaper — but we got a small kitchen's worth for about $1,600 total.
Flat pack vs. pre-assembled: IKEA
I convinced myself that the pre-assembled Home Depot cabinets would save me time and hassle compared to the IKEA ones — after all, it takes a solid half hour to assemble each IKEA cabinet, and that's after you've done a couple of them and gotten the hang of it.
However, I didn't anticipate a few things:
The assembled cabinets are BIG. I went to pick them up at Home Depot, and even with a completely empty hatchback with the back seat folded down, I could only get two cabinets in the car at once. I had to make multiple trips just to get them all home.
The assembled Home Depot cabinets are bulky, heavy, and awkward. Getting them from the car into the kitchen by myself was brutal, too. They're pretty heavy, and the weight isn't distributed evenly. Plus, the base cabinets are about 30″ x 24″ and our old doorways are all 30″ — it was a tight fit.
You actually have to disassemble them somewhat to install them. While the Home Depot cabinets were all assembled in the box and ready to go, you have to take off all the doors to actually install them (unscrewing them in several spots) — and then screw them back on afterward. It took almost as much more time as assembling an IKEA cabinet from scratch.
We got all of our IKEA kitchen stuff delivered for a flat rate of $99 (I believe this varies by how far you are from a store). But it's easy to pick up an entire kitchen's worth of cabinets from the store — they of course come in IKEA's famous flat-pack boxes, so it's easy enough to get them home.
If you go with IKEA cabinets (or most other ready-to-assemble stock cabinets), expect to take up to an hour or so assembling your first cabinet, and then you should be able to whip through the rest of them in 15-30 minutes each as you get the hang of it.




Quality: IKEA
I never thought I'd say this, but the cabinets we got from IKEA are pretty diesel. We've had them for four years now (most of that time with a small child around), cook at home almost every day, and still they've endured the abuse of modern family life admirably.
The "enamel" as I call it is wearing off in just one spot, under the trash can, which rubs against it every time I yank it out and push it back in with a handful of onion peels or whatever. But for the most part, I've been extremely impressed, and they look and feel nicer as well.
The Home Depot cabinets… Well, for starters, they were roughed up right out of the box. I spent a good half hour trying to reinforce this one below, which had come completely apart at one (fairly crucial) joint and was simply shedding shredded MDF particles all over the place:
Want to know why it came apart so easily? IT WAS STAPLED TOGETHER. So, there you go. Staples: Good for term papers, bad for kitchen cabinet joinery.
They also have a kind of cheap-looking finish to them compared to the white IKEA cabinets. On the whole, I wasn't impressed.
(Update — Oct. 2015: Just a year after installing the Home Depot cabinets downstairs, and under very light use (the apartment was virtually empty for three months), the wood veneer in the silverware drawer has bubbled up in gross pock marks, presumably from moisture:
I mean, it's a kitchen drawer – sometimes your silverware is still a bit wet coming out of the dishwasher, it's bound to happen. This is completely shoddy.)
Ease of installation: IKEA
This goes to IKEA hands down. For starters, they've designed them so you can get a suspension rail that you secure to the wall (to the studs). Then the wall cabinets simply hang on that rail. You know how much easier it is to keep a strip of aluminum perfectly level while you screw it in than, say, a boxy, 40-pound cabinet? MUCH easier.
Granted, that creates a small gap between the cabinets and the wall, and a perfectionist should trim the cabinets with some kind of decorative molding. (I just left it.)
Also, IKEA's cabinets come with adjustable, self-leveling legs, so you don't have to deal with tapping in a dozen shims just so in several different places trying the get the whole row lined up evenly. I didn't realize what a lifesaver those legs were — particularly in a wavy house like our old lady — until I was on my 10th shim with the Hampton Bay cabinets.
And finally, the IKEA cabinets came with strips across the top of them that you can mount a countertop to. With most other cabinets, you're kind of on your own in that department.
Extra features: IKEA
Our IKEA cabinets have the soft self-closing feature on the drawers and cabinet doors. So you (or more typically your three-year-old) can't slam them shut — they catch and then slowly pull all the way in. It's an AMAZING feature I can't imagine living without at this point.
And you know how much that little luxury costs when you go with IKEA cabinets? Like four bucks a cabinet. It's just a little air-cushion mechanism that you snap into place on the hinges. Ingenious. Meanwhile, to get the same feature on other cabinets it'll cost literally 10 times that or more.
Using IKEA cabinets means it's easy to incorporate other cool stuff of theirs, too, like their clever storage designs and pull-out shelves.
Choice and customization: IKEA
At the time, this was one limitation of both IKEA and Home Depot's in-stock cabinets — they only came in some fairly common sizes. IKEA did have a few more options, with multiple sink base sizes and drawers and cabinets at 12″, 15″, 18″, 21″, 24″, 30″ and 36″. The stock Hampton Bay cabinets had very few available sizes, and no irregular sizes like 21″ for instance.
And now, IKEA has overhauled its cabinet line with a new system called Sektion, which has been in use abroad for some time, with a lot more options for customization and modular mixing and matching. It looks awesome. (Don't worry: Most of the fundamental things discussed here, like the suspension rail, soft-close features, etc., are all still the same.)
And that's huge, because everyone's kitchen is different. Unless you live in one of those awful McMansion developments — God help you. And everyone uses their kitchen differently. Some people want lots of drawers, others want open shelves to see where everything is and show off some cute stuff.  The new system actually allows you to install nesting drawers — a big drawer face with a smaller drawer inside it. Outrageously cool.
Conclusion: IKEA cabinets win (by a long shot)
So, if our house were a three-decker — thank God it's not! — and I had yet another dumpy old kitchen to makeover for under $4,000, which cabinets would I choose: IKEA or Home Depot?
IKEA cabinets all the way.
But, to Home Depot's credit, they had the cabinets I needed in stock when I needed them, and we were in a time crunch. And despite the fact that they didn't measure up to IKEA cabinets, the finished product didn't come out half bad. (I also purchased just about everything else at Home Depot, including the GE gas stove and the cabinet hardware — they have a lot more options in that department.)
Here's a final look at the downstairs kitchen: