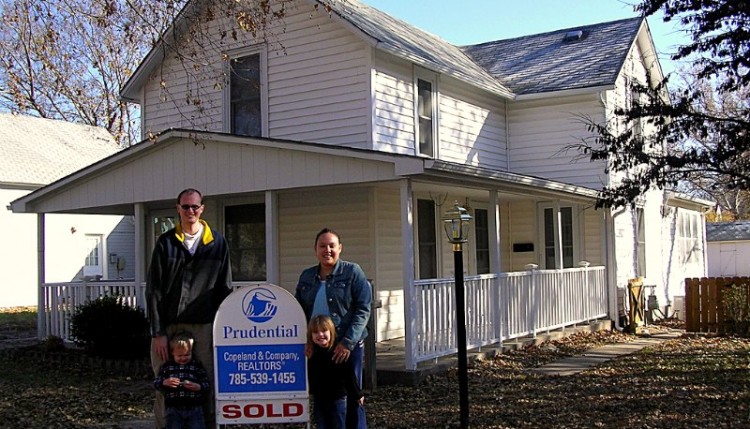 A guide to first-time home buyer programs
So you want to buy a house, but you don't have a ton of money saved up (and you didn't win the Powerball drawing)? It's a common conundrum that many, many first-time home buyers face, but don't worry: There's an app(lication) for that.
First-time home buyers are great for the economy — they make up about a third of real estate purchases, and they're typically just starting a family or otherwise settling down. They're more likely to buy smaller homes — condos or starter homes — or fixer uppers, much to the delight of Home Depot and local contractors.
And that's one reason there are so many programs out there aimed at helping people buy their first home. After all, it's like any other catch-22: How do you get experience when no one will hire you because you have no experience? And how do you come up with enough cash for a 20% down payment when you don't already own another house to sell?
What, you don't have $84,000 lying around?
Well, one answer is to save up — big time. The median single family home price in Massachusetts was $421,100 in 2016, according to the National Association of Realtors. That means you'd have to save up about $84,000 to make a traditional 20% down payment on an average house in Boston (and that's not even including a few thousand bucks more in closing costs).
Eighty-four GRAND?! In cash?!
Yup. So, you know… just cancel your big wedding, sell your car, and clamp down on your spending to save $1,000 a month for the next several years. Throw in one of your kidneys, and you're almost there!  (I mean, honestly, what kind of 27-year-old has that kind of money sitting around if they're not a drug dealer or trust fund kid?)
Thankfully, there's another way.
First-time home buyer programs to the rescue
There are a ton of programs out there, both locally and nationally, to help first-time home buyers get a foothold in the housing market. Massachusetts, in particular, has one of the best first-time home buyer programs in the nation through Mass Housing, which we'll look at in detail momentarily. (In fact, that's how we bought our house.) But first, an overview:
Benefits of a first-time home buyer program
Low down payments: In general, the biggest advantage of these programs is that they allow first-timers to buy a house with a lower down payment — such as 10%, 5%, or even as low as 3% of the home's purchase price. That means you could get into that average Boston-area home with a far more reasonable $13,000 saved up.
Flexibility: Other benefits include slightly looser or more flexible lending criteria in some cases — meaning you could qualify for a mortgage with a lower credit score or higher debt levels than traditional lenders might accept. Still, you'll need at least pretty good credit in most instances.
No tricks: And most if not all first-time home buyer programs are created with fixed interest rates and other consumer safeguards in place, meaning there are no prepayment penalties, balloon payments, or other bubble-era shenanigans.
Common requirements of first-time home buyer programs
Income limits: To qualify, your household income usually must fall under a certain threshold. However, it's not usually poverty-line low or anything — they want you to be able to pay the mortgage, after all. There may also be a limit to how much you can borrow.
In the Boston area, including Suffolk, Norfolk, Plymouth, and Middlesex counties, the current household income limit for a Mass Housing mortgage is $126,900 (as of early 2017), and the most you can borrow for a single-family home is $424,100. The borrowing limit is higher for two-, three-, and four-family homes.
Home-buying course: Another typical requirement of these programs is that you need to complete a first-time home buyer's course. My wife and I took ours through the Mass. Affordable Housing Alliance, and it was invaluable. (At the time, we had to attend a class downtown once a week for four weeks, but now you can even complete a class online.)
You'll learn the ins and outs of what is a very complex and expensive process; I can't even begin to tell you how important this is when you've been renting your whole life. We had NO IDEA what home ownership really entailed until we took this class. Even if you don't need first-time home buyer assistance, you should take one of these classes.
First-time buyers only: This may be obvious, but these programs are usually just for first-time home buyers. However, that often includes people who have owned a home before — just not in the past three or five years.
Mortgage insurance: A low down payment means you'll almost certainly have to pay private mortgage insurance (PMI) in some form or another. In the absence of a 20% down payment cushion, PMI protects the bank if you default on the loan and the home's value drops (see also: Housing Crisis).
Different first-time buyer programs have their own ways of handling mortgage insurance, whether it's paid up front, a regular monthly fee, or wrapped into the mortgage over 30 years. MassHousing, for example, can insure your mortgage in a variety of ways based on your situation. In many cases, once you reach 25% equity in your home (after several years of payments, an increase in home values, or both) you can apply to stop paying PMI or refinance your mortgage to eliminate it.
Paperwork: Finally, as with any other mortgage, you'll have to jump through a number of hoops and compile what seems like an excessive amount of documentation to qualify, including tax returns, recent pay stubs, retirement and bank account statements, and a complete breakdown of all your debts, from credit cards to car payments to student loans.
Drawbacks of first-time home buyer programs
In addition to owing mortgage insurance, the other main drawback of a first-time buyer program is that interest rates are sometimes — but not always — a bit higher than you'd get with a conventional mortgage.
To be honest, the last time we refinanced, we got a slightly better rate through Mass Housing than we were able to find at a traditional lender. But even if you end up paying an eighth or a quarter of a percentage point premium through a first-time buyer program (that might amount to just 10 bucks more a month, but it adds up over 30 years), it's a pretty small downside in exchange for a much lower down payment. Just be sure to do all the math, making honest assumptions about how long you plan to stay in the home, and compare the numbers over the long term.
And depending on the program, there may be restrictions and limitations on how you use the property. For instance, they might require that the home be your primary residence (easy), or dictate that you can't sell it for a profit for at least three years. Check the fine print of any program you pursue and make sure you're comfortable with the terms of the arrangement.
First-time home buyer programs in Massachusetts
Boston is one of the most expensive housing markets in the country — after all, it's awesome here. That makes it really hard to break into the housing market as a first-time buyer in Massachusetts. However, as is often the case, the Commonwealth has programs to help you out.
Mass Housing
This is the big one you need to know about. Mass Housing was one of the first state housing finance agencies formed about 50 years ago, and they offer all kinds of different programs aimed at helping Massachusetts residents find affordable housing, whether they're renting or buying.
Mass Housing has a number of first-time home buyer programs and mortgages available (and also a handy home buyer checklist), from purchase-and-rehab loans to those for veterans. Check out all their mortgage programs here.
Their flagship product though, is the standard Mass Housing loan, which is what my wife and I used to buy our home. It's a straightforward 30-year, fixed-rate mortgage, with a competitive interest rate, low down payment options, and even unemployment protection. We had very good credit, but not a lot of money saved up, and that made us prime candidates for this first-time home buyer loan.
"Our specialty really is the borrower who has good credit but doesn't have a big down payment," Tom Gleason, Mass Housing's former executive director, told me in an interview back in 2015. "What we found over the years is you don't have to have good credit and a big down payment in order to be a successful home buyer."
To qualify, your household income needs to fall under the limits I mentioned earlier, you need to take a home buyer course, and you'll need pretty good credit. (You can check your eligibility online here.)
Gleason told me the average credit score of Mass Housing borrowers was around 730, but that they would go as low as 680. "People who have credit scores below 680 or maybe 660 are still going to have a hard time getting a mortgage," he said.
When we refinanced our mortgage (twice in three years: once from 6.25% down to 5.25%, and then again down to 4%) we stuck with Mass Housing even though we had enough equity in our home the second time to get a more traditional mortgage.
Why? Because we knew and trusted them, yes, but also because they'll pay all or part of your mortgage if you get laid off, for up to six months. That's an incredible benefit when you work in, say, the publishing and media industry — where I've been laid off three times over the years and survived about a dozen other mass layoffs in between.
That was our No. 1 fear about buying a house back in the day: What if we lose our jobs and can't pay the mortgage for a couple of months? Obviously you should have an emergency fund, and we did have a small one — but month after month of mortgage payments without any money coming in would wipe that out in short order. The Mass Housing insurance — and the fact that we could probably cover the mortgage if we rented out our home and holed up in a cheap studio for awhile — helped quell those fears.
"MI Plus is really cool. We started this 11 years ago," Gleason told me, at a time when mortgage insurance only helped the bank if the loan went bad. "It didn't help the consumer at all. So we kind of turned it on its head a little bit. We said well, one of the issues that we see with people defaulting on their mortgages is that they lose their jobs. So why don't we give them some protection that if they lose their job they only need to worry about one thing, getting reemployed, they don't need to worry about losing their home as well. So for the same price as traditional mortgage insurance, you get this protection where in case you lose your job we pay your mortgage for six months."
Why six months? Gleason explained, "We did an actuarial analysis when we put the program together: In a worst case scenario, going back as far as you can go back, what was the average unemployment in Massachusetts? And even in a worst-case scenario, it averaged like five months. So we structured it at six months."
He added, "Now that doesn't take care of everybody, because some people are unemployed for much longer. But 800 families have accessed this program since we created it, and 700 of those 800 times we've been able to preserve their maintaining ownership of the home. That's an unbelievable outcome," Gleason said. "When we put the program together, the arithmetic said if you saved one in 14 homeowners, this program would pay for itself. But we're saving 7 out of 8 homeowners. So instead of a 7-8% success rate, we have an 85% success rate."
The other benefit of a Mass Housing mortgage, especially for someone going through this momentous process for the first time, is that they're local and they take a hands-on approach — they're there to help if you're struggling.
"Once we get someone in the home we try to keep them in the home, it's that sustainable housing philosophy that we think is so important," Gleason said.
To apply for a Mass Housing loan, you don't go through the agency itself, you work with an approved lender — there are a hundred or so across the state, including plenty of local banks and credit unions you'll be familiar with such as Eastern Bank and Rockland Trust.
Here are some key links to Mass Housing's various home buyer programs:
City-specific first-time home buyer programs
In addition to the state housing finance agency, many individual cities and towns across the Bay State offer their own form of first-time home buyer programs or assistance with down payments or closing costs, which can vary quite a bit in terms of requirements, restrictions, and benefits — so make sure you read the fine print.
For example, some programs require that you live in the home for a certain number of years. Others might retain equity in your home or recoup some of the grant money once you sell the home.
Here are links to some of the local first-time home buyer programs in Massachusetts:
The North Suburban HOME Consortium offers down payment assistance and other services for first-time home buyers in several communities from Arlington to Revere. Income limits are 80% of HUD's median family income: $54,750 for a one-person household as of early 2017, $62,550 for a two-person household, and $70,350 for a family of three. Here's who to contact in each city:
National first-time home buyer programs
Beyond these local and state programs, there are national programs designed to assist first-time home buyers as well, as well as state-by-state resources.
FHA Loans
The government guarantees loans made through the Federal Housing Administration, which gives lenders the confidence to write mortgages they wouldn't ordinarily like to — to borrowers with low down payments, lower incomes, and/or average credit, for example.
With an FHA loan, your down payment can be as low as 3.5%, and your credit score can be pretty unremarkable, too — as low as 600.
You will have to pay mortgage insurance, and your interest rate will be a little higher than that of a conventional mortgage, but it's a pretty solid program if your state doesn't offer much in the way of assistance. One other hitch is that certain types of properties – particularly those that need a lot of work – won't qualify for FHA financing.
VA Loans
Like FHA loans, those made through the Veterans Administration are also backed by Uncle Sam. However, VA loans are even more attractive to borrowers than FHA loans.
Through the VA, veterans and U.S. military members can get a mortgage with no down payment whatsoever, no private mortgage insurance, and low closing costs. And you don't even have to be a first-time home buyer. Learn more here.
USDA Loans
Finally, the U.S. Department of Agriculture also backs a low- or no-down payment mortgage program for low- and middle-income rural home buyers. However, USDA loans aren't just for people living in the sticks. You just have to buy a home outside a major metro area — that can include nice, cultural college towns in Western Massachusetts or Upstate New York. You can search a map of eligible areas on the USDA website.
USDA loans require no down payment, and they aren't just for first-time home buyers, either. They do have income requirements, however, that vary by region.
State programs
Mass Housing was one of the very first state housing finance agencies, but it's not the only one that assists first-time home buyers. "There's a housing finance agency in every state in the country," Gleason told me.
You can look up your state's housing finance agency using this HFA directory; here are links to some nearby and larger states.
Tips when applying for a mortgage
Finally, as you get closer to realizing your first-time home buyer dreams, it helps to know what to expect when you start the mortgage application process. It can be tricky, and exhausting. Here are some good tips from that Boston Globe article I wrote, and I'll summarize them here as well:
Take time to research and learn what you're getting into. This is a huge undertaking, and you should spend proportionately more time researching the home buying process and crunching the numbers than you would researching, say, your next vacation.
Take a first-time home buyer's class. When my wife and I took our home buying class, we learned something really important: We had NO BUSINESS buying a home yet! We were scraping just to come up with the $1,000 for the good faith deposit. We finished the course, learning SO MUCH about the home buying process that we had no idea about, and then buckled down for a year researching the market and saving up for a modest down payment. By the time we made an offer, we knew what we were doing and it was far less scary.
Keep paperwork. You're going to need prior years of tax returns, recent pay stubs, bank statements, W-2 forms, retirement account balances, student loan statements — and on and on. Start filing anything that pertains to your financial situation in a mortgage folder.
Don't overextend yourself. Just because a bank will loan you $400,000 to buy a house doesn't mean you should take all of it. Make sure you can afford the mortgage you apply for, remembering to take into account the miscellaneous expenses that renters don't worry about, such as property taxes, homeowners insurance, water and sewer charges, and routine maintenance (stuff breaks, I assure you). Financial stress is the No. 1 cause of marital discord and divorce, so don't inject that into your life if you don't have to.
Shop around. Different banks, brokers, and credit unions will offer different rates or even different underwriting criteria. As with anything else, it makes sense to check rates at a couple of different lenders — and double-check their math.