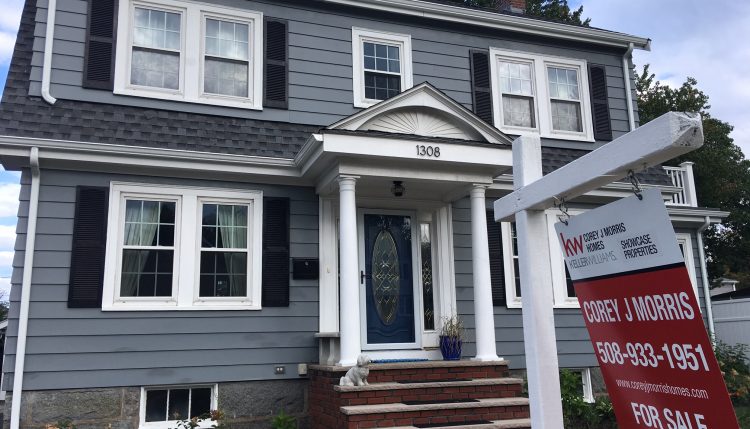 Three reasons right now might be your best chance to buy a home in Boston
The past few years have seen home prices — all over the country and state, but particularly in and around Boston — race upward. To say it's been a seller's market would be a vast understatement. With too few homes on the market, fierce competition has forced buyers into costly bidding wars, waiving important contingencies, and rushing what should be a very deliberate decision.
It looks like we're maybe, finally, hitting a turning point for first-time home buyers (who don't have an existing home to sell into the frenzy).
It's hardly what you'd call a buyer's market. But it is, at the very least, tilting back toward buyers' favor somewhat. Here are three reasons why.
Reason No. 1: There are a few more homes for sale.
Probably the single biggest driver of price increases over the past few years has been a lack of inventory, especially in the most desirable housing markets. There just haven't been enough homes for sale to keep up with the rising demand for housing.
In 2018, new inventory helped cool off some of the hottest markets in the nation, such as Seattle. It's nowhere near as high as it could or ought to be in the Boston area, but we have seen a very small boost in available homes for sale: At 3.1 months, October had the largest supply of homes on the market since early 2015: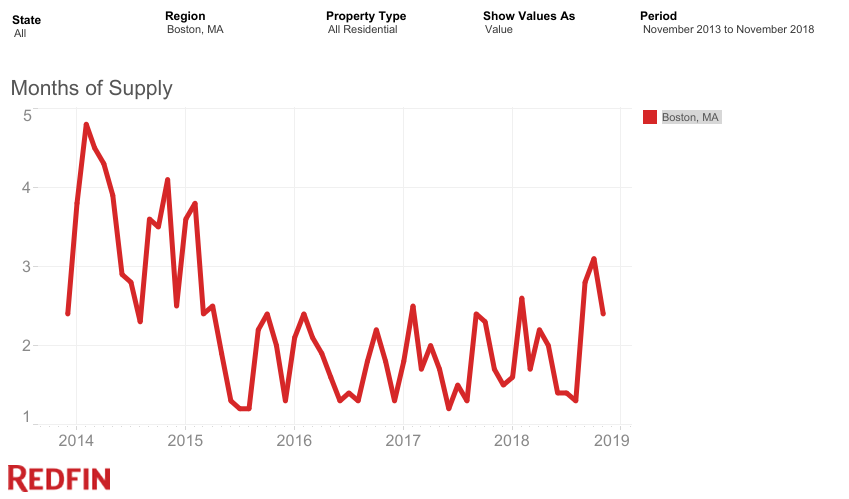 And in Massachusetts, the number of pending single family home sales went up, year-over-year, in each of the last 12 months. These figures are still really low by historical standards, but they're momentarily headed back in the right direction for buyers.
More homes on the market means buyers face a little less pressure — they can take a little more time to consider their offer, and are less likely to be forced into an expensive and emotionally draining multiple-offer bidding war. In fact, Redfin found that only 37.3% of Boston area listings received multiple offers in November, compared to 44% a year earlier. (However, multiple offer situations were still very much the norm in markets like Arlington Heights, Winchester, and Malden, among others.)
Reason No. 2: Prices actually fell in December.
The median price of a single family home rose 5.3% overall this year, from $372,488 in 2017 to $392,083 in 2018. Year-end condo prices were up 6.2%, to $371,513.
BUT, that figure is for the entire year, including our hot-hot spring. Here's the interesting nugget: In that Massachusetts Association of Realtors' pending sales data for December, the median price of a single family home actually dropped 1.3% from December 2017, from $380,000 to $375,000. The median condo price fell 2.1% year over year, from $359,900 to $352,500.
It's not much, sure. But when home prices have been steadily galloping higher and higher for six straight years… a price drop is meaningful.
And this isn't just a December anomaly. Throughout most of 2018, rising mortgage rates were eroding buyers' purchasing power — and by September, one in four active listings had seen a price drop in response. A lot of buyers were simply stretched to (or too far beyond) their breaking points once interest rates went up, and more sellers have had to adjust to that reality.
As an example, imagine you've got $50,000 saved up for a down payment, and you can afford a maximum mortgage payment of $2,400 a month (plus taxes and insurance — don't forget about those other costs of homeownership).
At a 4.5% rate, you could afford to take out a $473,000 mortgage, allowing you to purchase up to a $523,000 home. You're searching for homes in the $400K to $525K range.
If that rate ticked up to 5.0%, you could only afford a $447,000 mortgage, limiting your maximum home price to $497,000. Suddenly a good chunk of homes saved in your 'favorites' list are no longer available to you.
That's how a simple market fluctuation can wipe out $26,000 in purchasing power out of nowhere. And that's why many sellers were forced to start lowering prices (from very high levels, mind you) late this summer.
A lower priced home at a higher interest rate doesn't really help buyers, though — you're still paying the same amount each month, except more of it is going to the bank instead of the seller. However, there's one more development to note.
Reason No. 3: Interest rates have fallen (for the moment).
Finally, while sellers started dropping prices, the average interest rate on a 30-year mortgage dipped back down to 4.51% last week, according to Freddie Mac, after rising for most of 2018 and hitting 4.94% in November.
That doesn't sound like a big deal, but as we saw above, a half-a-percentage point drop like that can add thousands of dollars to a family's home buying budget. Coupled with the slower holiday housing market, buyers who have kept an active search are in a pretty good position right now.
There's no telling if or how long that slight advantage will last. Most housing experts expect interest rates to rebound and to start climbing again, and most also expect prices to continue rising regardless — a double whammy for homebuyers in need of a mortgage.
But for now, at least, Boston buyers have a little more leverage than they've had in quite a long time.