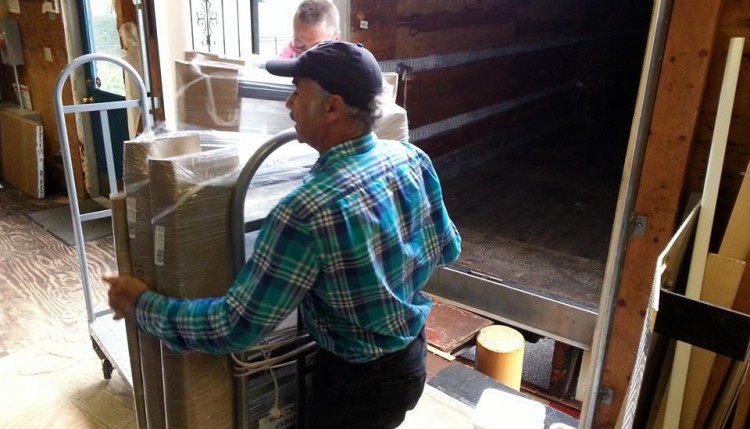 Shopping the Habitat ReStore and Boston Building Resources Center
One of the challenges of owning an old house — and there are many! — is finding stuff that matches your home. It can be tough to find doors that go with the ones in your 1890s Victorian or window molding as wide or as detailed as the trim in your 1920s bungalow.
And that's just one small reason why you need to know about the Boston Building Resources Center and the Habitat Boston ReStore. (Hint: The other reason is that they sell all kinds of awesome house stuff for cheap.)
The Boston Building Resources Center
Let's start with the BBRC. I promised to write about this place last week — it's an amazing asset to have nearby. In addition to their homeowner workshops, they receive all kinds of donated building materials and home fixtures that they resell at a discount.
For instance, let's say a builder is remodeling a kitchen, and the cabinets are still in good shape. Rather than pay money to dispose of them at the dump, he can bring them here and get a tax write-off for the donation — and the BBRC can sell them to another homeowner at a steep discount. Everyone wins, except for the landfill, and who likes him anyway?
(Side note: You ever see one of those Before and After remodeling articles where it's so over the top and luxurious that you'd be perfectly happy even to have the "Before" kitchen? That's why this place exists.)
And it's not just cabinets. We're talking everything from sinks and faucets to lighting and paint to flooring and tile to furniture and appliances to windows and doors — so many gorgeous old doors, in all sizes and styles!
We were members here for a couple of years when we first bought our house, and I can't recommend it enough when you're on a home improvement streak. You can browse some of what's available in their warehouse on their website, but it's really worth a trip because they get new items in constantly. The BBRC is at 100 Terrace St. in Roxbury Crossing.
The Habitat Boston ReStore
Habitat for Humanity, which builds affordable homes for low-income families to purchase, also receives a ton of donated building materials — much of which they're unable to use. So a few years ago, Habitat started opening up similar donated-material stores around the country.
The Boston ReStore opened in 2011, and it's even bigger than the BBRC. The ReStore has an awesome selection of not just building materials but also home furnishings — dressers, couches, and tables, for instance — though it's not as centrally located as the BBRC. (The Habitat Boston ReStore is at 1580 VFW Parkway, West Roxbury).
Your ReStore purchases provide funding for Habitat for Humanity of Greater Boston's local home-building programs. And after speaking to their CEO recently, I have to say I was really impressed — blown away, actually — with all the good they do and how they do it.
My Favorite Buys at the Habitat ReStore Right Now
While your best bet is to simply stop by the store since the inventory is always changing, the ReStore posts a number of its new items on Craigslist — you can see all of their listings here. Here are my current favorites that will probably get scooped up before you know it:
Industrial rustic coffee table: $40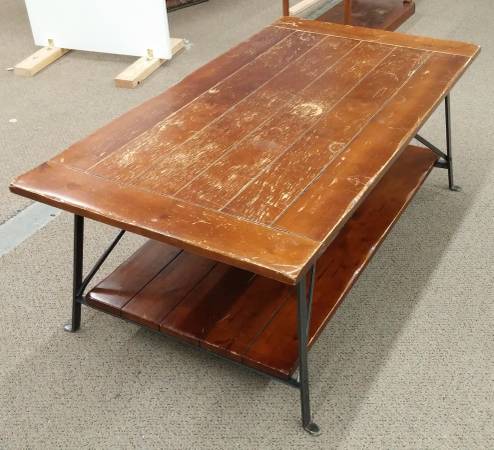 I just love the look, size, and functional simplicity of this coffee table. Iron and weathered wood — it's a classic. I may have to try building something like this for an upcoming DIY weekend project.
If you're worried about those coffee rings, that's why my motto might be "Wood is good." Just sand down the top a bit and apply a new coat of stain and wipe-on polyurethane and it'll look as new as you want it to.
Old-school classroom desk: $40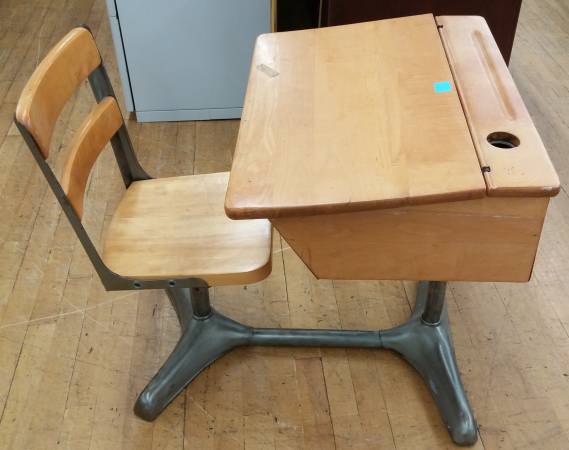 You don't have to be a hipster to appreciate this as an awesome addition to your home. My daughter would FLIP. OUT. If I brought this home for her. She could do all her coloring and her other "work" (that's what she calls it) on the desktop and keep all the supplies right inside, like a big kid.
My Favorite Buys at the BBRC Right Now
Once again, inventory changes all the time — but here are my favorite picks available at the Boston Building Resources Center as of this writing:
Hearthstone Freestanding Gas Fireplace/Wood Stove ($509)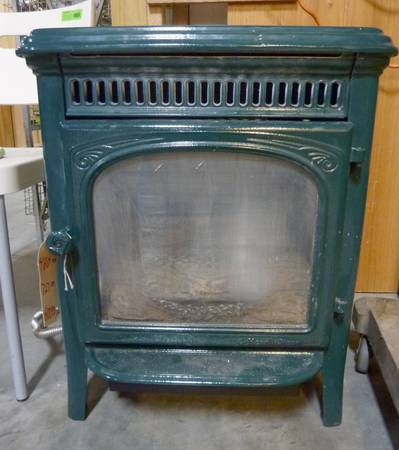 It's tough to think about chilly weather right now, what with our air conditioner struggling mightily just to keep the house at a tolerable 80 degrees. But when the cold inevitably returns, this gas "wood stove" will keep you cozy all winter long.
The Tuscan model appears to be one of Hearthstone's smaller stoves, but it still heats up to 1,800 square feet — and that's plenty of warmth for most Boston apartments. And unlike a drafty fireplace, a wood stove (or a gas one) is far more efficient. As far as I can tell, this one looks to be 88%-89% efficient, better than most boilers (and a lot nicer looking, too).
I imagine you'd need to vent the exhaust, and that will probably run you a few hundred bucks. (For what it's worth, we had a good experience with Four Seasons Chimney, who installed our wood stove and steel chimney liner a number of years ago.) But a nice cast-iron stove like this one would retail for well over $1,000.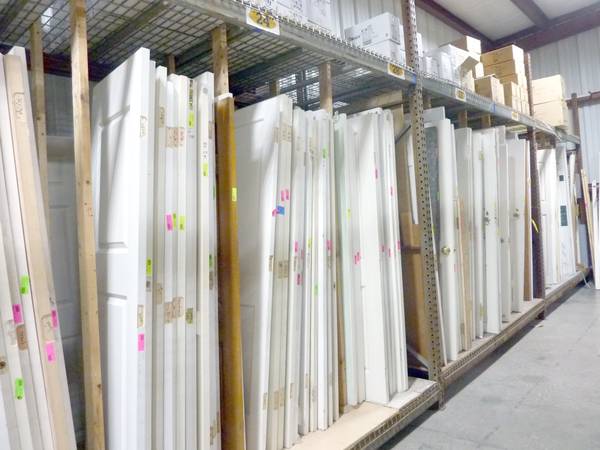 Just look at all those doors. The smaller ones (between 24 and 28 inches wide) are all 10% off through Friday.
What would you do with an old door? Well, I'm glad you asked.
Replace an existing door: This one's obvious, but you can find a correctly sized match to replace a broken or crappy door in your house. We replaced our hollow-core kitchen door a few years ago with a beautiful wood and window-paned door we bought at a ReStore for $30.
It lets in more light, offers more weather and sound insulation, and just looks 1,000% better than the veneered piece of garbage that was there before. But I'll warn you: Dealing with hinges and getting a door installed just right is NOT easy! Looking back, I might have hired a handyman to tackle the installation and save me several hours of frustration.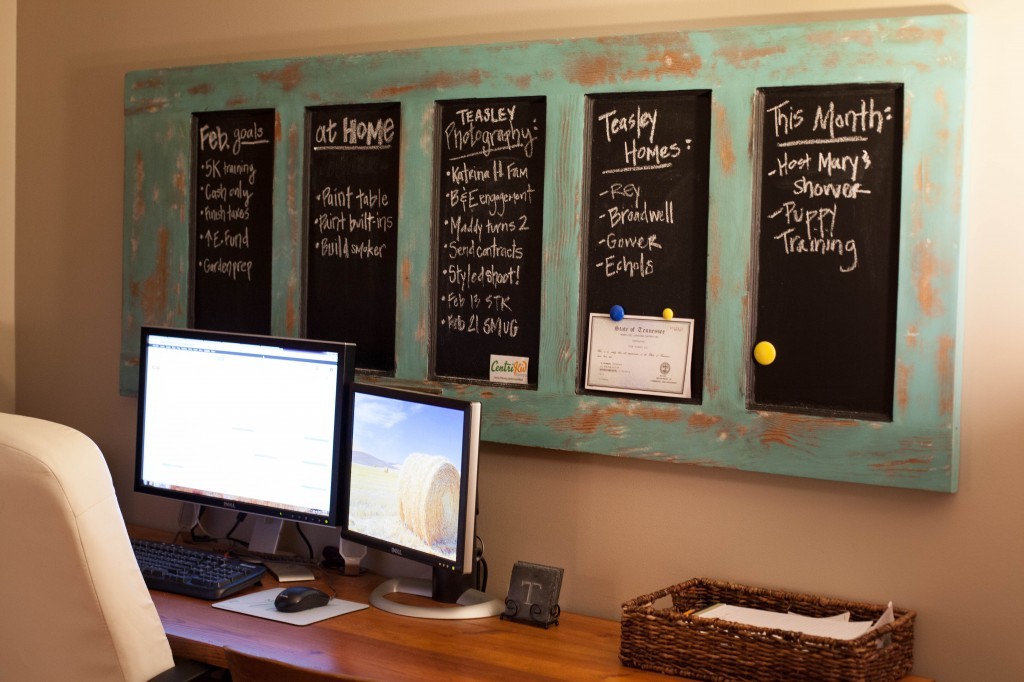 DIY chalkboard: An old door with panels is perfect for this: Paint the inside of the panels with two coats of chalkboard paint (one vertical, then horizontal). The rest of the door acts as a ready-made frame. If you don't have room for a seven-foot chalkboard (fair enough), cut it in half or sections.
DIY coffee table: A solid oak door is damned sturdy. That means you can just flip it on its side, attach four simple legs (you could try iron piping for an industrial look, or even just prop it up on something, like bricks or stacks of books), and call yourself the owner of a new coffee table with character.
Workbench: Likewise, propping up a solid wood door on sawhorses or attaching some 2x4s for legs makes for a quick garage workbench or shelving unit.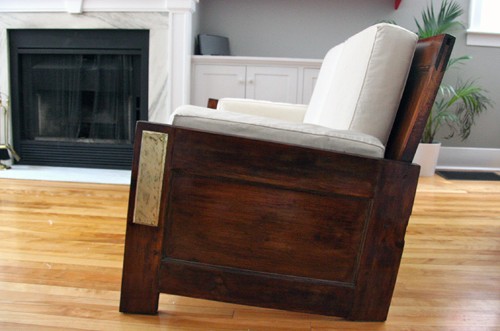 DIY sofa: A DesignSponge reader built this incredible handmade, custom couch for $55 using just a couple of handsome old doors and leftover cushions. (Right?)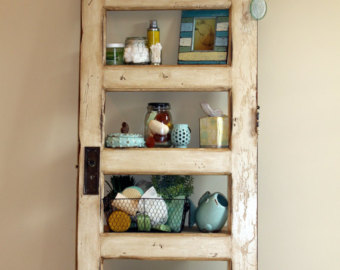 Bookshelf: Knock out the panels and attach shelves that fold back (or keep the panels and attach shelves in front), and you have a gorgeous bookshelf. Make sure to mount it to the wall or otherwise secure it, since things could get real tippy real quick otherwise.
Attic flooring: This is uninspiring compared to the rest, but most of our house's old doors ended up in the attic years ago, laying over the rafters so you can walk around up there. Better than the landfill!
Anyway, those are just a couple of the cool things you can pick up from these great local resources. I'll keep an eye on their Craigslist offerings and post new finds from time to time, but if you're a DIY homeowner on a budget, you owe yourself a trip to one or both stores.